Press clippings and interviews from October 2017 –  February 2020
—-
Our CEO Mrs. Balikich as a guest on Croatian National TV – Global Croatia
Highlights: " Learning to believe in oneself, not to be afraid of failure or a turn in life – are the wisdom that, after living in several countries, brought Danijela Balikic as a returnee to Croatia. Her business success came after major life tragedies."
https://glashrvatske.hrt.hr/hr/multimedija/globalna-hrvatska-tv/globalna-hrvatska-tv-15022020/?fbclid=IwAR3O3Wuf1hKJuo58gYJMFCvg6BSSZllQjzhOgLjXgx0WwvwCnuF4wgVfBq4
—
Marija Klasiček did not know what would follow when she started the valuable initiative titled:   MOJA PODUZETNIČKA PRIČA   (My entrepreneur story). Interesting life stories would be published. For us a very special one: The  Path, the Dreams, the Vision and  World's Success – Meet Our Director Danijela Balikic
—
Great talk in the famous magazine GLORIA, with our  CEO Danijela Balikic
Internet edition – June 22nd, 2019 –  Imunoalfa – strength in a pill
Print edition – May 30th, 2019
Mrs. Danijela Balikic gave an exclusive interview on the Croatian Network TV about her life journey, the formula of success – hosted by the famous Ana Brbora Hum 
Croatian National TV –"Global Croatia"
INTERVJU SA DOBITNICOM PRESTIŽNE NAGRADE "CROATIAN WOMEN OF INFLUENCE 2019"
https://croatianwomensnetwork.org/
https://croatianwomensnetwork.org/team/danijela-balikic/
 https://moja-domovina.net/2019/03/10/u-zagrebu-odrzana-cetvrta-medunarodna-konferencija-croatian-womens-network-mreze-hrvatskih-zena/?fbclid=IwAR2wOph-LbFgZD_tZfcoFYPIitysJ6GsRWwdhzErXjry4o_nbWtguBUohzI
https://croatianwomensnetwork.org/team/danijela-balikic/
https://mojahrvatska.vecernji.hr/vijesti/uspjesna-hrvatica-iz-clevelanda-nije-vazno-samo-pokrenuti-posao-1305764
https://hrvatskenovine.at/clanak/07-11-2018/nagrada-uticajne-hrvatske-zene-za-2019
https://www.croatiaweek.com/women-of-croatian-ancestry-from-around-the-world-recognised-with-awards/
https://glashrvatske.hrt.hr/hr/aktualno/izvan-domovine/mreza-hrvatskih-zena-nagraene-zene-iz-pet-zemalja/
http://croatia2go.com/croatian-women-of-influence-and-future-leader-awards/
http://www.hrvatskiglas-berlin.com/?p=185926
http://www.efos.unios.hr/ndrvenkar/mreza-hrvatskih-zena-utjecajne-hrvatske-zene-2019-godine/
https://tvprofil.com/show/7498139/globalna-hrvatska-htv
http://vestitor.news/croatian-women-of-influence-award-winners-announced/
Our CEO Danijela Balikić awarded again! This time she is the WINNER OF CROATIAN WOMEN OF INFLUENCE AWARD for 2019
https://www.croatiaweek.com/croatian-women-of-influence-award-winners-announced-2/
https://hrvatskenovine.at/clanak/07-11-2018/nagrada-uticajne-hrvatske-zene-za-2019
https://glashrvatske.hrt.hr/hr/aktualno/izvan-domovine/mreza-hrvatskih-zena-nagraene-zene-iz-pet-zemalja/
Imunoalfa  – officially in Bosnia an Herzegovina: https://orasnica.ba/novo-na-trzistu-kozje-i-kobilje-mlijeko-sa-ljekovitim-biljem/
As the famous Women in Adria says: "Imunoalfa is a must have in every woman's bag!"
Exclusive interview  for the famous Total Croatia News
Nothing can dim the light that shines from within.

Origo Centar – Prvi specijalizirani centar za holističku detoksikaciju u Hrvatskoj
The first specialized centar for holistic detoks in Croatia recommends Imunoalfa. Podrška kod izazova brzog života za svaki dan
—-
A little bit insight from the   famous Pioneers18 Event!
When you are looking into the future and beyond, you get an exclusive invitation to be in the company of the  best in the world!
—
Banovina is an hour and a half away from Zagreb, a real oasis of beauty. We met there some brilliant, brave and powerful women who founded the Women's Business Association of Banovina.
BILE SMO NA OSNIVANJU UDRUGE PODUZETNICA BANOVINE Banovinu mnogi napuštaju, ali hrabre i poduzetne žene ostaju
Our CEO Mrs. Danijela Balikic was an honored guest and gave one of her great motivational speeches to these lovely women from a small town, but with a big heart! They founded the first NGO for Women Entrepreneurs of the Banovina region!   Nothing is impossible for these wonderful woman!
—
Change is around the corner.
Prezentacija moje tvrtke Orange & Green u sklopu Switzerland Global Enterprise Zurich, pred zastupnicima švicarskih farmaceutskih tvrtki, potencijalnih investitora…

Gepostet von Danijela Balikic am Montag, 19. Februar 2018
————————————————————————————————————————————-
Always in the company of great people.
—————————————————————————————————————————————-
https://www.facebook.com/photo.php?fbid=10214753686905596&set=a.10204098565414218.1073741825.1527540227&type=3&theater
Great atmosphere, wonderful guests, and a Journalist who tries to change the world for the better!
Prime time Friday  – Croatian National TV
---
An honor to be in the company of Mate Rimac and other distinguished Croatians.  Our CEO Danijela Balikic – is one of the examples what can be done for : Better Croatia (page 3 of National newspaper Vecernji list, journalist Mladenka Saric).
http://www.womeninadria.com/poduzetnice-koje-nas-inpsirirale-ove-godine/
---
http://www.womeninadria.com/buducnost-pripada-zenama-iznad-50-godina/
———————————————————————————————–
Gold medal for Imunoalfa – the  International Inovation  Exhibition 2017
http://www.womeninadria.com/zlato-i-srebro-na-medunarodnoj-izlozbi-inova-2017-za-inovativne-proizvode-hrvatske-tvrtke-orangegreen-vlasnice-danijele-balikic/
T-portal tehno https://www.tportal.hr/tehno/clanak/hrabar-zaokret-upoznajte-inovatoricu-koja-nas-zeli-natjerati-da-zivimo-zdravije-foto20171103
---
Startup potential of the year 2017.
---
Our CEO, Danijela Balikic is one of the finalists for woman entrepreneur of the year 2017!
http://www.womeninadria.com/projekt/nagrade-najboljim-poduzetnicama-2017-finalistice/
The Croatian women magazine Women in Adria
Women in Adria – Danijela Balikic  
http://www.womeninadria.com/ojacajte-svoj-imunitet/
---
Our CEO, Danijela Balikic, gave an one hour interview for a  tv talk show which is on the national level : "One nastupaju" / "It's their time".
Sometimes, you need just to hear about other people's story to inspire you to do something.
Today is a good day, to start.  https://www.youtube.com/watch?v=HXoY6ziA71E
---
Interview done by  the host of Pioneer's Health Event:    
https://www.youtube.com/watch?v=incaFVdxF84&feature=youtu.be-
—————————————————————————————————————————————-
Newspaper Jutarnji list – Interview – double page spread  – 29.10.2017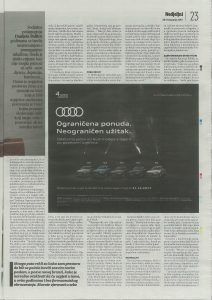 http://www.jutarnji.hr/life/zivotne-price/nova-karijera-u-kasnim-40-ima-nakon-zivotne-tragedije-nasa-ugledna-soc-pedagoginja-potpuno-je-promijenila-karijeru-i-krenula-u-neizvjesni-projekt/6695493/
---
http://amazonke.com/2017/11/04/pozitivni-izvjestaj/
http://www.ictbusiness.info/vijesti/deset-zena-uslo-u-najuzi-izbor-za-ovogodisnje-nagrade-najboljim-poduzetnicama
http://she.hr/finalistkinje-za-nagrade-najboljim-hrvatskim-poduzetnicama/
The website is under construction.